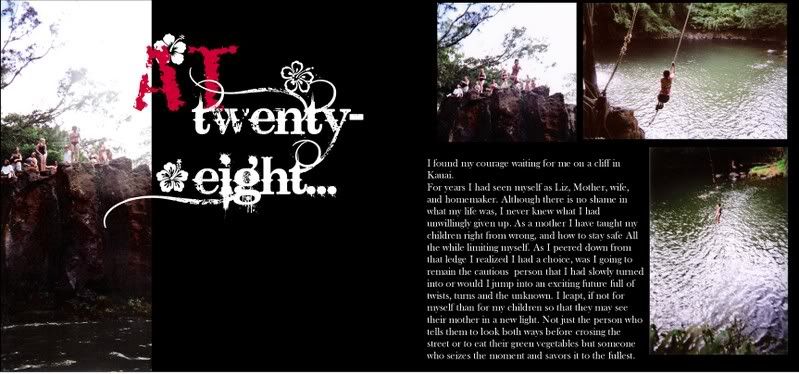 A little Scrap therapy after SOY. This Lo took me seriously minutes to make but it is one of my favorites. how often do I get to scrap about me? Never! I am taking these next 6 months to work on an album of us for me and James so that our kids can really know about who their parents are.
Journaling:

I found my courage waiting for me on a cliff in Kauai.
For years I had seen myself as Liz, Mother, wife, and homemaker. Although there is no shame in what my life was, I never knew what I had unwillingly given up. As a mother I have taught my children right from wrong, and how to stay safe All the while limiting myself. As I peered down from that ledge I realized I had a choice, was I going to remain the cautious person that I had slowly turned into or would I jump into an exciting future full of twists, turns and the unknown. I leaped, if not for myself than for my children so that they may see their mother in a new light. Not just the person who tells them to look both ways before crossing the street or to eat their green vegetables but someone who seizes the moment and savors it to the fullest.